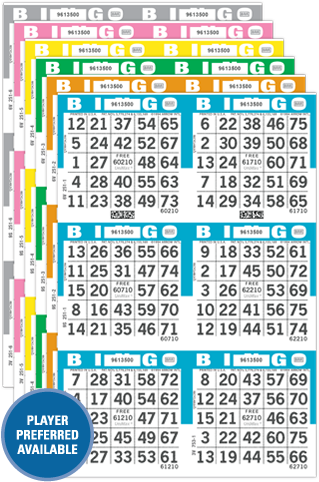 UniMax Game Advantage
ONE SERIAL NUMBER PER SET

Makes tracking serial numbers easy!
Eliminates illegal paper and missed revenue

SERIES IDENTIFICATION SYMBOL

Each series identified with unique symbol in the "O" of bingo for easier identification by staff

MACHINE COLLATED PRODUCTS

Reduces manufacturing errors such as torn sheets, missing pages and wrong colours

NO WAX SHEET

Eliminates waste, reduces weight

AUDITRACK™ SYSTEM

Booklets are consecutively numbered for quick and accurate sales tracking
Packed in sets sequentially by audit number

INCREASED SECURITY FEATURES

All of the audit numbers for 3V, 6V, 9S and 18H are now printed on each sheet of the booklet
You will know at any time whether or not a book was sold for that session!


A page number on each sheet lets players know exactly which sheet to play.


The cut is identified with a prefix before the numerical number of each audit number (examples: 6V 251-1, 9S 251-1 AND 18H 251-1)
No more guessing. No more complex charts!