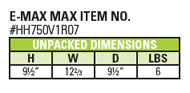 The revolutionary E-max® Max™ units are easy to play, easy for players to learn and they offer a high quality bingo experience for fun that's out of this world!
The finest in portable gaming units, the E-max Max offers your players the ability to monitor multiple electronic bingo cards at once while playing their paper cards too! Watch your profits soar as your players take advantage of the ability to add more bingo faces to their normal play. They can semi-auto daub or manually daub on the colourful touch screen monitor.
The multiple themes and player tracking options make your players feel at home by allowing them to personalize their playing experience.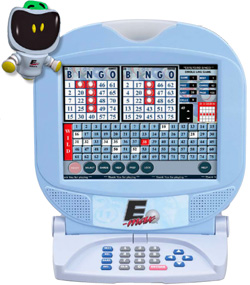 The only portable gaming device with these features:
High quality colour, touch screen display
Keyboard
Integrated magnetic card reader
Option of line or battery power
Multi-feature dome light which can be seen throughout the hall