Nova Scotia HELPP Program - Raising Funds for Nova Scotia Hospitals
The Hospital Equipment Lottery for People Project (HELPP) is a unique fundraising program used by hospitals in Nova Scotia, Ontario, and Alberta to raise funds to support local community health care projects.
Local hospital auxiliaries sell our exclusive HELPP breakopen ticket within their local hospital retail store, gift shop or at table/kiosk located within the hospital and donate the proceeds back to the hospital to support your local health care needs.
In Nova Scotia, HELPP breakopen tickets have been sold at the Queen Elizabeth II Health Sciences Centre, Cobequid Community Health Centre and Roseway Hospital with over $1 million raised to date.
The Nova Scotia Alcohol and Gaming Division has approved the HELPP breakopen tickets to be sold by any hospital auxiliary in Nova Scotia who obtains a breakopen ticket licence.
The HELPP Program is not part of Atlantic Lottery Corporation and all proceeds from the sales support your local hospital.
How Much Do We Make?
Each box of HELPP breakopen tickets has 2,220 tickets that sell for 50¢ each. Here's a breakdown of the revenue, expenses and your net profit.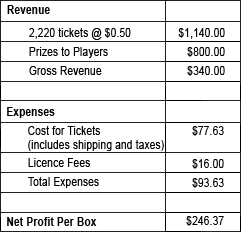 That's $246.37 for every box sold to be donated to your local community's health care needs!
Click here to download a flyer that provides more details on the HELPP Program and how your hospital can get started.
For further information, please contact the Arrow Games / Bazaar & Novelty Dartmouth Office at 1-800-465-2464.