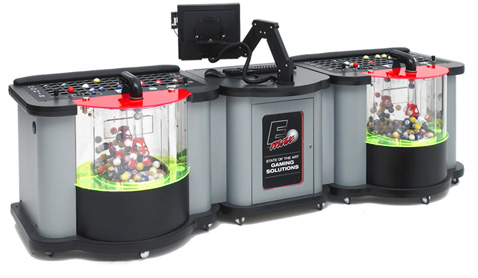 The technically advanced E-max® Elite™ bingo console is the top of the line model in this product group. Designed to give you the flexibility you need as well as the ease of use you desire.

Features
Available as single (left-handed or right-handed operation) blower or double blower
Two hall video outputs
Ergonomic operator comfort
Positional swing arm 17" USB touch screen monitor
Built in CDRW, modem and ethernet
Reliability and Compatibility
Performs with most flashboards
Improved flashboard interface output
Ball switches are sealed to protect against drink spills and airborne contaminants
Built-in UPS protecting all electronics and preventing crashes
Manual back-up mode in event of PC failure
Flashboard outputs are thermally protected with higher gain
Flashboard outputs protected from static electricity (ESD)
Able to scroll messages across the video output
Optional cover available
Additional Features
Magnetic card for added security and quick logon
Quiet double acrylic ball chamber
Built in colour camera
Deskjet printer
Optional RNG
Specifically designed to verify UniMax® and Capitol® bingo paper, including Dual Dab®, Dab-All-75® and Mini Dab-All-75®
Hall advertising multimedia capabilities
Easy to Use
Intuitive operation, offering touch screen, keyboard or mouse interactivity
Additional Media Capabilities
Use video for text messaging or advertising graphics - increase your games' profits with built-in advertising during intermission and before/after sessions
Item No. / Dimensions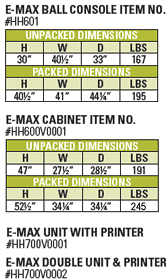 * ALL WARRANTIES ARE VALID FOR 1 YEAR.
* Customized annual service contracts are available.
Please contact your authorized E-max distributor for technical support or service.